GAZ Group has developed medical vehicles, enhancing work efficiency of health care institutions under epidemic conditions
GAZ Group is presenting new modifications of medical vehicles that help substantially increase capabilities of mobile diagnostics, vaccination and treatment of patients, enhance comfort for medical personnel, reduce costs and improve efficiency of vehicles operation.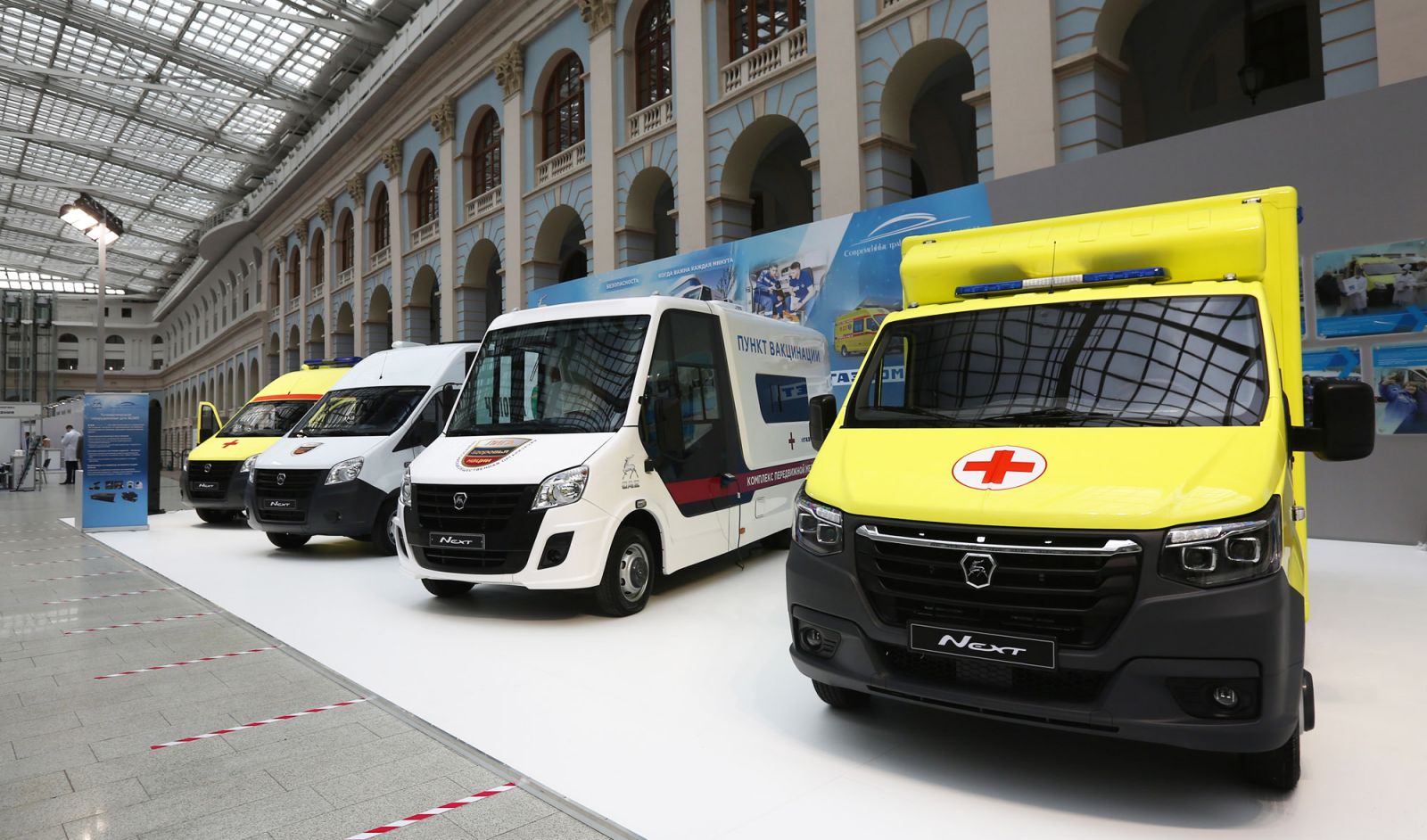 GAZ Group, Russia's largest manufacturer of medical and social vehicles, presents new vehicle models that enable application of optimal practices of ambulance fleets management, organization of vaccination, diagnostics and treatment of patients, and also help make medics' work more comfortable.
Modular Class C ambulance is a GAZelle NEXT chassis on which a specialty medical superstructure is mounted. Unlike the traditional ambulance model, made on the basis of full-metal vans and minibuses, such modular design permits when necessary to easily remove the medical superstructure (module) and replace it with a different one, for example commercial (goods or refrigerator van body), or the other way around – put the medical module on a different chassis. Such approach to ambulance construction makes it possible to easily reduce or build up the fleet of medical vehicles depending on epidemiological situation. Once the base chassis wears out as a result of intense utilization, the module with expensive medical equipment can be transplanted as a whole to a new chassis, which will markedly reduce the costs of renewing an ambulance fleet. Large volume of available space and strictly rectangular – without narrowing in the upper part – shape of module interior allow a broad range of medical equipment to be fitted in and enhance work comfort for care teams, while keeping the overall dimensions of vehicle compact. The interior can accommodate two patients at the same time.
Class C ambulance based on GAZelle NEXT bus features convenient layout for transportation of patients over large distances. Distinguishing characteristic of the vehicle is its increased interior volume, instrumental for organizing transformable work space with comfortable swivel chairs for medical personnel, ensuring convenience of work on the patient and safe accommodation of personnel during movement. External panels of the vehicle are made of glass-fiber reinforced plastic, interior trim – of fiberglass. The materials used in construction of the vehicle are practically free of wear and ageing and retain initial appearance throughout service life. Thanks to small number of seams cleaning and disinfection are easy and simple.
Mobile medical center based GAZelle NEXT bus can be used for large-scale field vaccinations, medical examinations, off-premises diagnostics and other health care activities. An additional trailer module can be attached that can house one more medical station. Besides medical equipment and furniture the vehicle is fitted with autonomous life support systems, power generator and integral WC.
Mobile medical office based on GAZelle NEXT 4.6 with extra-long wheelbase can become an efficient instrument for ensuring equal access health care for all citizens of Russia, regardless of where they live. The vehicle is an excellent choice for visiting diagnostics, people's health condition screening, risk factors monitoring, mass physical examinations at production facilities and in small inhabited areas, supporting mass-attendance public events Extended wheelbase and very long body make it possible to arrange two medical rooms in one vehicle at the same time. For example, one could be used for primary care, while the other – for special examinations.
Class C ambulance vehicle with telecommunications package – a demo prototype that shows possibilities of using modern multi-media communication systems for high-efficiency provision of medical help to patients off-premises. The vehicle is equipped with an array of cameras, monitors and high-speed communications systems that make it possible for care teams to consult on-line with specialized medical professionals right during examination of patients or therapeutic manipulations. This way it is possible to treat sick people in the most remote locations of the country under supervision of experienced doctors. The vehicle is also fitted with "Anti Sleep" driver impediment monitoring system. It detects signs of driver fatigue during travel (eye movement, head position and rotation, changes in mimics and other signs) and promptly reacts with light and sound alarms once signs of sleep are detected.